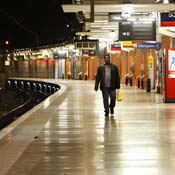 Shaboom sends us her update from Paris...
Thanks for the well wishes. I am okay, just really irritated and feeling fatalistic. Had a blah day in bed.
Breakfast - fried egg on frenchie tater tots and a pot of tea
There's a transportation strike. This always happens at really opportune moments in my life. When I was studying in France in 1995, I went Paris for the weekend with some girlfriends and got stuck there for a week or two. We ended up having to pay to take a taxi for 5 hours. We were students with no money. It pretty much bankrupted us. I may or may not still be trying to pay that one off...
Today I was "invited" to have a trial day at a cool café slash night club slash restaurant near the Bastille. I grabbed a piece of baguette, slapped on some Boursin, grabbed the rice with pesto sauce and fried egg that Obsessed! had made and ran out the door. I hopped on the one train that is scheduled per hour and chowed down right then and there. I was panicked. I thought I was going to be late. The train stopped at ALL. THE. STATIONS. and it LINGERED at each one for sometimes as long as 10 minutes. When I finally got to the café, I apologized profusely to the manager. He looked at me sideways with a smile?
"What are you talking about? You're not 15 minutes late. You're 15 minutes early. Have a seat. Do you want a coffee or something?"
I got the times wrong THANK GOODNESS!! Nice one, Shaboom.
It went really well. Everyone who works there is nice and the customers were kind to me even though I thought it would be a good idea to throw some couple who were obviously on their first date's food on the floor. Awesomeness. But hey, they needed a little pizazz, a little something to tell the coworkers about tomorrow at the office. I'm happy to have been able to provide them with that. You know, whatever people - they tipped me and THEY WERE FRENCH. (No one tips over here.)
I ate A SINGLE french fry (tease,) drank a strawberry smoothie and a café au lait at "work." (I put that in parentheses because they did not pay me.)
Lots of stairs and walking today.
Could not fall asleep until 7am and not because of any fun "indoor cardio." I too am on strike. I am not kidding. When in Rome... errr, Paris...
*photo above is borrowed from the internet*